INSTALLATION
COMPANY INFO
Grand Gardener® Kit

The Grand Gardener Greenhouse will provide you with the ideal gardening environment regardless of the season.
Overview
Rion Grand Gardener Greenhouse
Rion Grand Gardener Clear and Translucent Greenhouses– Beautifully designed in a barn style shape with excellent features for the hobby gardener. The greenhouse is manufactured from strong extruded dark green PVC Resin frame  is unique to Palram. The PVC frame has natural insulating qualities to create a fantastic environment for growing.
Virtually unbreakable Polycarbonate glazing creates traditional look of a glass glazed greenhouse, whilst being safe.  The greenhouse consists TwinWall glazing on the roof which Blocks UV rays to protect inner equipment  and crystal clear glazing on side walls  which provides over 90% light transmission and brings sunlight to your crops.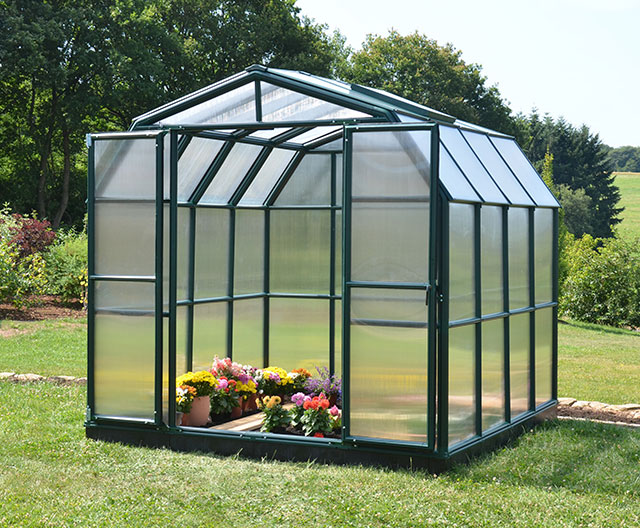 ---
Superior Glazing – high quality tough, Twin-wall polycarbonate roof panels and clear polycarbonate side walls, held securely within framework.
Great heat retention.
Great thermal efficiency
Very tough and durable
Good longevity
Durable structure – oval profiles made of strong PVC green Resin weatherproof, UV resistant and very stable. Snaps together using specially 'Pin & lock' smart system that creates a clean finish and easy assembly.
Downloads
Grand Gardener and Prestige Greenhouse Kit - Downloads Assembly Instructions
Click on each product name to download the assembly instructions:
Click on each product name to download the assembly instructions:
Grand Gardener 8′x8′ Opaque
Grand Gardener 8′x20′ Clear
Grand Gardener 8′x16′ Clear
Grand Gardener 8′x12′ Clear
Grand Gardener 8′x8′ Clear
Grand Gardener 8′x20′ Opaque
Grand Gardner 8′x16′ Opaque
Polygal Polycarbonate Sheets and Rion and Palram Greenhouse Kits