INSTALLATION
COMPANY INFO
Overview
The flagship greenhouse – Attractive and Functional
If you are feeling upset at the end of the gardening season every year and are considering extending your gardening enjoyment into autumn and winter; the Hobby greenhouse is a great choice. Let your plants and vegetables grow and keep them safe from the elements, so they will to thrive during winter season.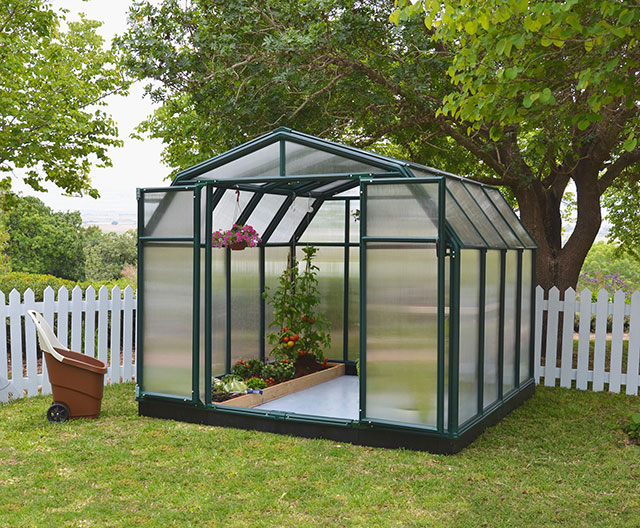 ---
The Hobby Gardener® greenhouse is designed with the Keen gardener in mind. Manufactured with 4mm twin-walled polycarbonate roof panels, and 6 mm polycarbonate side panels, both offer superior strength, safety, light diffusion and great heat insulation. The Hobby Gardener is very durable, constructed with thick UV protected PVC Resin in a green color that integrates beautifully in the garden environment. Adding  Aluminum Profiles to roof frame makes the structure stronger  and more durable for long lasting gardening use.
Special features makes comfortable gardening environment: 
Virtually unbreakable thick TwinWall Polycarbonate glazing – provides extra durability, 100% UV protection, high impact and hail resistant
Thick PVC Resin frame improves insulation and creates extra durability for many years to come
Sturdy and durable structure – withstands harsh weather and heavy snow load
Maximum safety – no glass to shatter or break
Double wide hinged doors for a comfortable working space and easy access.
Additional accessories available to make the greenhouse perfect for your needs
Cleverly packaged for convenient shipping and delivery
The Hobby  Ggreenhouses frame is made from a robust PVC resin frame which is 100% UV protected and is assembled with an easily Pin & Lock connectors system, making installation friendly and simple without any special tools that required. The Hobby greenhouse can be easily assembled together with the smart 'Pin & Lock' connector method.
Downloads
Hobby Gardener Greenhouse Kit – Downloads Assembly Instructions
Click on each product name to download the assembly instructions:
Hobby Gardener 8′x20′
Hobby Gardener 8′x16′
Hobby Gardener 8′x12′
Hobby Gardener 8′x8′
Polygal Polycarbonate Sheets and Rion and Palram Greenhouse Kits